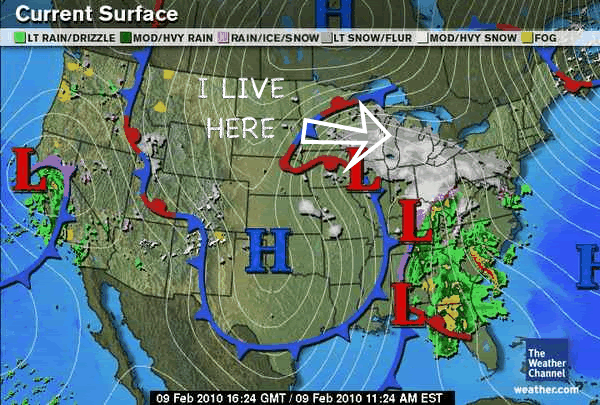 "Heavy snow is possible near the Great Lakes today, tapering off tonight with snow showers possible tomorrow. Gusty winds can also be expected through tomorrow, tapering off Thursday."
Yippee. Of course, it's not just a normal boring week with nothing going on. Ryan has an Orchestra Performance tonight, then an after-school club meeting tomorrow. Nathan has a Band Performance tomorrow night. Nothing says fun like chauffering kids around in heavy snow, especially since our Township side streets get plowed last after the city finishes the major streets.
On a positive note, the kids might finally be able to build a snowman. We had snow at Christmas but never enough to really get a good snowman going. There's a good sledding hill at the elementary school down the street, so on Friday when the boys have no school for a professional development day, I'll send them down there.
You know where I really wish I was right now? Austin, Texas, with my friend Corrin who says it's 60 degrees there. I'd much rather be dealing with wind and warm rain than with driving in 9 inches of snow. Or anywhere warm where I could sit by the pool next to my vacation rental home sipping Pina Coladas.  My friend Amy just got back from a week in Jamaica, which made me turn all kinds of green with envy. I can't afford Jamaica. I can afford…Jacksonville. I can call Jacksonville property management and maybe afford a one bedroom apartment for the five of us, but I wouldn't care. I just want to be warm!