What I'm Thinking About Today: My Goals for 2013
I know it's already February and you're supposed to make your New Year's Resolutions on, you know, New Year's and whatever, but I'm giving myself a pass because January was just not a pleasant month around here.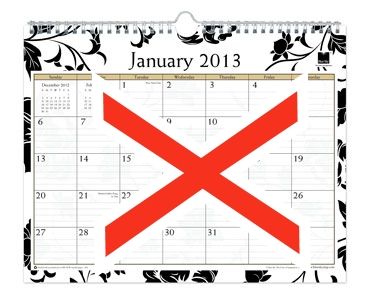 Despite having both lived in Michigan our whole lives, and knowing exactly what January's weather is like, Chris and I are still never prepared when January's wall of sickness hits us. It usually starts with one of the kids sniffling and claiming to "not feel good", and ends with either Chris or I (or sometimes both of us) practically bedridden with evil colds. I can't remember the last time I went somewhere to celebrate my birthday (Jan. 30) because I am almost always sick that day.
The sickness monster worked it's way through us all and then left, leaving us looking at the calendar wondering where the heck January went, but not sorry to see it go. And now it's February and it's about time I committed to my goals for the year in writing.
I spent 2012 working on my marriage and my relationship with my kids. It's just that simple. Chris and I found ourselves early in 2012 having the worst crisis of our relationship – and we've been together since 1985 – and it took enormous amounts of energy and time to work ourselves back from the ledge. For months I didn't sleep on a regular schedule, some nights I collapsed at 9:00 and stayed in bed until morning, and some nights I kept waiting to feel sleepy until the sun came up, the kids went to school, Chris went to work, and I slept the entire day away.
And Some nights I stay(ed) up cashing in my bad luck
Some nights I call(ed) it a draw
Some nights I wish(ed) that my lips could build a castle
Some nights I wish(ed) they'd just fall off
Oh come on, like I could use the phrase "some nights" that many times in a paragraph and NOT get the song by fun. stuck in my head? A song I already love so much that I wish I could meet Nate Ruess even just for a minute, so I can be one of those annoying fans that just HAS to tell him how much his song MEANS to me, how much those opening lyrics hit me right where I live, man. Plus he's adorable and I'd have to give him a smooch on the cheek. He looks like the love child of Matt Damon and Mark Wahlberg, right?
But I digress.
So anyway, I spent 2012 not getting divorced, and I realize that my blogs suffered for it. The problem is, and many of you reading this have talked to me about it on Facebook, is that the kind of blogger I used to be is not the kind of blogger I want to be now. Personal blogging is still very much a thing, I can name you a dozen bloggers who have this seemingly magical ability to write every single day about their kids and their feelings about parenting, in long beautiful paragraphs. I just don't really have enough to say on that topic to fill up a blog anymore.
We're just….boring. I can't post artfully arranged photos of my perfectly dressed kids playing, because two of them are teenagers with less than zero interest in being photographed, and one is a 7 year old who regularly looks like she dressed herself and combed her own hair – because she did.
I don't make crafts. I don't make cake pops or birthday party invitations or bento lunches. I don't turn thrift store furniture into amazing play kitchens, or stitch up my own "super quick and easy!" curtains. What I do is get through every day, one day at a time, and try not to screw up my kids too badly with my issues.
But let's be honest here – do you really want to come here every time there's a new post to read about how I slept 10 hours, played some games on my tablet, smoked too many cigarettes, watched too much TV, and then collapsed in bed? That's certainly not what I intended when I started this blog!
So that's what's happening over here, guys. I know I have at least some writing talent. I can put words together in sentences that make sense at least. I've been at this since 2005 and am making less money now than I did the first year I made anything. I WANT to have a fantastic blog that you want to read. I just don't know how right now. Which means it's brain dumps for me until I can figure out something I'm actually good at that people want to read.
A blogger who started about the same time as me, but who also posts almost every day, made over $50,000 from her blog last year. You know how much I made? So little that not one single client had to send me a 1099. And now we are 2 months behind on our mortgage and a month behind on all our other bills, and if we don't have to file bankruptcy AGAIN it will be a miracle. I'm scared, guys. I'm scared that I left my job at the credit union 14 years ago to be a stay at home Mom and ended up making our lives worse.
Maybe this is my new blog. Long brain dump posts about how horrible every thing is. I'm sure that will get me tons of readers and advertisers and paying jobs. Gah. The end.