It came to me just as I was falling asleep last night – an idea for a fun and easy meme to do on Fridays! Welcome to Friday Fives, a new weekly meme where we share lists of, well, anything! To participate in this blog hop, all you have to do is write a post on your blog or site and share five things you like, five things you've done recently, five places you'd like to visit, five products you can't live without – the list is endless!
Here's a couple of ideas to get you started:
Last five TV shows watched
Last five pins on Pinterest
Five favorite blogs or websites
Five favorite types of candy
Five favorite restaurants
In your post, include a link back to the latest Friendly Fives post here on Table for Five, or include this cute button!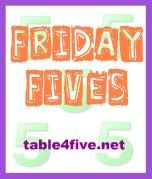 Then, come back here and link up your post so I can come to your blog and read your list.  This is a fun way for us to get to know each other better!  Want to make sure you don't miss a post? Add Table for Five to your feed reader or subscribe by email!
Not a blogger? You can make a list on your Tumblr page, you could create a new board on Pinterest, post your list on your Facebook wall, or even post your list right here in the comments!  Wherever you create your list, check here every Friday by 9:00 a.m. EST for the linky.
Okay, here's my first Friday Fives list!
Last Five TV Shows I DVR'd
The Big Bang Theory
Grey's Anatomy
Private Practice
Body of Proof
The Soup
Add the URL to your Friday Fives post here. I'll keep the linky open through the end of the day on Sunday. Have fun creating your lists, I can't wait to read them!